Last Updated on 04/14/2021 by Inside Tailgating
We're always finding awesome new tailgating gear to share with you, and this has to be one of the coolest items yet. Everyone obviously loves to grill during tailgates, but with most tailgating grills you really only get one type of surface that's good for your standard burgers, chicken, and dogs. That's all great: don't get me wrong.
But, if you want one grill that lets you cook anything you want at your tailgates, you gotta check out the Blacktop Premium Party Hub Grill.
With this multi-purpose, insanely useful tailgating grill, you get:
A deep fryer (perfect for wings or fried chicken)

A regular grill

A griddle (good for breakfast for those early start times)

A warming plate. Have to keep that food warm somehow!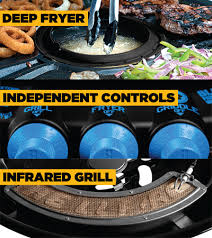 Plus it also comes with a cutting board and a carrying bag. What more could you ask for in a grill? If you've been looking for the perfect grill to bring to your tailgates, you can stop looking now.