Last Updated on 04/15/2021 by Inside Tailgating
Fish tacos are said to come from Baja California, Mexico's northernmost state. But I like to put a hot and Caribbean flair to my fish tacos. For your next tailgate event try these out.
Busha Browne Fish Tacos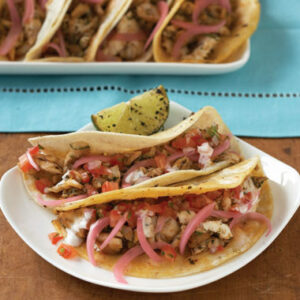 Ingredients:
2 large ripe mangos, peeled, pitted and chopped
1/4 minced red bell pepper
1 tablespoon lime juice
1 small scotch bonnet pepper (stems seeds and membrane removed)
2 green onions, sliced (green tops only) or 1/4 cup finely chopped purple onion
1 tablespoon chopped fresh cilantro
1 pound cod fillets, rinsed and patted dry
1 teaspoon chili powder
1/2 teaspoon ground cumin
1/2 teaspoon Mexican oregano
1/2 teaspoon garlic salt
8 corn tortillas, warmed
2 cups shredded green or red cabbage
1/2 cup crumbled cotija cheese (or queso fresco, or shredded Monterey Jack)
Busha Browne Pukka Hot Pepper Sauce
Directions:
Preheat oven to 425F.
Stir together mango, bell pepper, lime juice, cilantro, scotch bonnet pepper, and onions in a medium bowl; set aside.
Place cod on 2 large sheets of parchment paper.
Stir together dry seasonings in a small bowl and sprinkle over cod.
Bring edges of parchment paper together and fold twice.
Fold ends under to enclose fish.
Place packets on a baking sheet and bake for 15 to 18 minutes.
Open packets carefully to let steam escape.
Place equal amounts of cod in each tortilla and ingredients and top off with Busha Browne's Pukka Hot Pepper Sauce.