Last Updated on 04/14/2021 by Inside Tailgating
Why is this article called "St. Louis / St. Paul"?
Well, it is about the city of St. Louis and an interesting food item called the St. Paul Sandwich. I would think that if you were to tailgate before a Cardinals or Rams game this is a go to food choice.
According to Wikipedia:
"The St. Paul sandwich can be found in many Chinese American restaurants in St. Louis, Missouri, as well as other cities in Missouri, including Columbia, Jefferson City, and Springfield. The sandwich consists of an egg foo young patty (made with mung bean sprouts and minced white onions) served with dill pickle slices, white onion, mayonnaise, lettuce, and tomato between two slices of white bread. The St. Paul sandwich also comes in different combinations and specials, such as chicken, pork, shrimp, beef, and other varieties."
"One source has the origin of the St. Paul sandwich dating to the early 1940s, when Chinese restaurants created the sandwich as a unique dish that was in a more familiar sandwich form that would appeal to the palates of Midwestern Americans, an early example of fusion cuisine. According to local legend, the St. Paul sandwich was invented by Steven Yuen at Park Chop Suey in Lafayette Square, a neighborhood near downtown St. Louis; Yuen named the sandwich after his hometown of St. Paul, Minnesota. Food writers James Beard and Evan Jones believed that the Denver or Western sandwich was created by "the many Chinese chefs who cooked for logging camps and railroad gangs in the nineteenth and early twentieth centuries" and was probably derived from egg foo young. They believed that the early Denver sandwiches were actually St. Paul sandwiches."
St. Paul Sandwich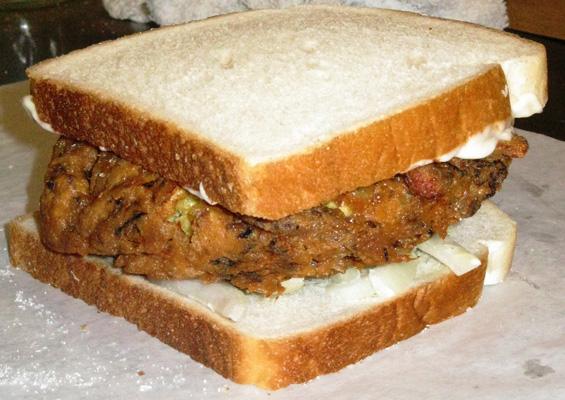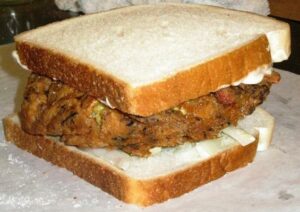 Recipe courtesy of Fortune Express
Ingredients:
Canola oil, for deep-frying (see tester's note below)
1 cup fresh bean sprouts
¼ cup diced or thinly sliced onion
2 Tbsp diced green bell pepper
3 small cooked shrimp, peeled
3 Tbsp diced or shredded poached chicken
3 pieces cooked beef (1/8 inch thick, 1 inch wide and 1½ inches long)
1 large egg
¼ tsp cornstarch
1 Tbsp mayonnaise
2 slices white bread Iceberg lettuce leaf
2 thin slices tomato 3
to 4 dill pickle slices
Directions:
Pour about 4 cups oil into a deep-fryer or deep saucepan.
Bring to 375ºF.
Break bean sprouts by crushing them lightly in the palm of your hand.
Place in medium mixing bowl.
Add onion, green pepper, shrimp, chicken and beef.
Stir to combine.
Beat egg lightly with a fork in a small bowl.
Mix in cornstarch.
Pour egg mixture over the sprouts mixture.
Stir well.
Place egg mixture in a shallow metal ladle 4¼ inches wide (big enough to hold it all).
Test the heat of the oil by throwing in a bean sprout.
The sprout will immediately pop to the top if the oil is hot enough.
When oil is hot enough, gradually lower full ladle into hot oil, but don't allow top of egg mixture to drop into the oil.
The egg patty will cook in the ladle.
Some hot oil will seep over the edges of the ladle.
Cook until almost done, 2 to 3 minutes, then spoon a little of the hot oil over the top of the patty to finish the cooking.
Transfer egg patty to a slotted spoon. If any egg mixture drips out, return the patty to the ladle and place in the hot oil for an additional minute.
The patty should be uniformly browned and sealed.
Spread mayonnaise on one slice of bread.
Top with the iceberg lettuce and tomato slices.
Slide the cooked egg patty onto the other slice of bread.
Garnish with pickles.
Close the sandwich.
Wrap bottom in waxed paper and serve immediately.