The New Year Six (or NY6) is the best homegating opportunity in college football. In just a few short games we are blessed with six NCAA Division 1 bowl games:
● The Orange Bowl
● The Sugar Bowl
● The Peach Bowl
● The Fiesta Bowl
● The Cotton Bowl
● The Rose Bowl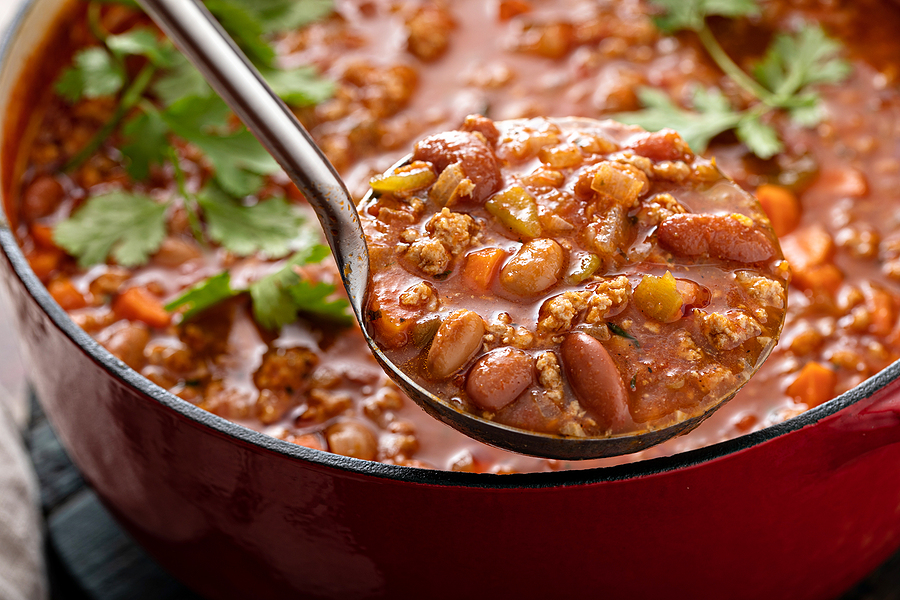 If that wasn't enough, the New Year Six is followed by the CFP National Championship. If you're lucky enough to tailgate any of these bowl games in person, check out our tailgating guide from 2020-21 for tips. Otherwise, we thought we'd do something special for our New Year 6 homegating party. This year for the bowl games, we're making bowls of chili. That's right, six bowls of chili for six bowl games.
New Year Six Schedule 2022 – 2023
Before we jump into the recipes, here is the schedule for the New Year Six:
● Friday, December 30 at 8 PM ET: The 2022 Orange Bowl at the Hard Rock Stadium in Miami Gardens, Florida
● Saturday, December 31 at 12 PM ET: The Sugar Bowl at the Caesars Superdome in New Orleans, Louisiana
● Saturday, December 31 at 1 PM ET: The Peach Bowl at the Mercedes-Benz Stadium in Atlanta, Georgia
● Saturday, December 31 at 3 PM ET: The Fiesta Bowl at the State Farm Stadium in Glendale, Arizona
● Monday, January 2 at 1 PM ET: The Cotton Bowl at the AT&T Stadium in Arlington, Texas
● Monday, January 2 at 5 PM ET: The Rose Bowl at the Rose Bowl Stadium in Pasadena, California
The New York Six is followed by the CFP National Championship at SoFi Stadium in Inglewood, California on Monday, January 9 at 7:30 PM. For the championship game, we recommend finishing with this award-winning classic chili served either as a chili pot pie with a cornbread crust or as chili with cornbread dumplings.
Six Game-Day Chili Recipes
Nothing warms you up on a cold January day like a big bowl of hot chili. Here are our picks for six game day chili recipes perfect for your New Year six homegating party.
Bacon Bison Beer Chili
Ingredients
3

Slices

Thick Cut Bacon, finely chopped

1

Large

Yellow Onion, finely chopped

1

Large

Garlic Clove, minced

1 1/2

Lbs

Lean Ground Bison

1

Tbsp

Chili Powder

1 1/2

Tsp

Ground Cumin

1 1/2

Tsp

Smoked Paprika

1

Tsp

Salt

14.5

Oz

Crushed Fire Roasted Tomatoes or Regular Crushed Tomatoes

8

Oz

Salsa

1

Cup

Medium-Bodied Beer

14.5

Oz

Mixed Beans, drained
Toppings
Chopped Cilantro

Sliced Jalapeno
Instructions
In a large, heavy-bottomed pot over medium-high heat, cook bacon, stirring until it just begins to brown, about 4 minutes.

Add bison, breaking up and string until slightly cooked through, about 5-6 minutes.

Sprinkle chili powder, cumin, paprika, cayenne and salt, stir to combine.

Push bison to the perimeter of pan making a clear spot in the center.

Add the onion and garlic to the center and stir cooking until translucent, about 4-5 minutes.

Add tomatoes, salsa, and beer and bring to a boil.

Reduce heat to medium-low, cover partially, and cook 30 minutes.

Add beans and cook 10 minutes, uncovered. Season to taste with salt. Serve warm, with toppings on the side.
Lean, hearty bison meets the smoky salty flavor of bacon in this beer-drenched chili recipe. The recipe is simple to put together and cooks in just 30 minutes. You start by crisping the bacon and browning the bison, then add all the delicious seasonings. This is not a particularly spicy chili, so feel free to up the heat if you so desire. This chili is also gluten-free and dairy-free to help meet some dietary restrictions.
Pair With:
● A Red Amber Ale like Colorado Red Ale from Blackshirt Brewing
Serve With:
● Pumpkin Cornbread With Cinnamon Honey Butter
● Bacon Cheddar Jalapeno Cornbread
● Cinnamon Rolls (A Midwest favorite)
Chorizo Sweet Potato Chili
Ingredients
2

Cups

Peeled and Diced Sweet Potatoes

2

Tbsp

Cooking Fat (coconut oil, bacon fat, etc.)

1/4

Tsp

Fine Sea Salt

4-6

Slices

Uncured Bacon, cooked and drained

1

Lb

Ground Chorizo Sausage

1/2

Medium

Onion, diced

14.5

Oz

Canned Fire Roasted Crushed Tomatoes

7

Oz

Tomato Sauce

2

Tsp

Chili Powder

1

Tsp

Cumin

1/2

Tsp

Smoked Paprika

1/2

Tsp

Garlic Powder

Pinch of Cayenne Pepper

Green Onion

Avocado
Instructions
Have your bacon cooked, drained, crumbled, and set aside

In a large skillet or saucepan, add cooking fat and melt over medium heat.

Add diced sweet potatoes and stir to coat in the fat, sprinkle with salt, then cover the pan and cook about 2 minutes. Uncover and stir again to brown evenly. Continue to cook 2-5 minutes until soft, adjusting the heat to avoid burning.

Once sweet potatoes are soft, add the diced onions and cook about a minute, stirring. Next, add the chorizo to the pan, breaking up lumps and stirring with a wooden spoon. Cook and stir over medium heat until nicely browned.

Once the sausage and sweet potato mixture is browned, add the crushed tomatoes, tomato sauce, and all the spices and stir to combine flavors.

Continue to cook and stir over medium heat until the mixture begins to bubble, then lower the heat and simmer for 5 minutes.

Once ready to serve, add the bacon to the chili. Serve over your favorite greens and garnish individual servings with sliced green onion and avocado.
Taking notes from our friends in the Southwest, this chorizo sweet potato chili is hearty, flavorful, and healthy. It is ideal for both paleo and Whole 30 since we know a lot of us are focused on burning off that holiday weight. The salty, smoky chorizo and bacon pair beautifully with the sweet richness of the sweet potatoes. Topped with fresh avocado and bacon crumbles, you'll definitely want a second bowl. The best part? The whole chili only takes about a half hour to make.
Pair With:
● An American Stout like Cascabel Cream Stout from 512 Brewing Co
Serve With:
Short Rib Black Bean Chili
Ingredients
2

Tbsp

Olive Oil

2.5

Lbs

Beef Short Ribs on the bone

Salt and Pepper to taste

2

Medium

Onions, diced

6

Oz

Canned Tomato Paste

1

Tsp

Onion Powder

1

Tsp

Garlic Powder

1

Tsp

Cumin Powder

1

Tsp

Smoked Paprika

3

Dried

Ancho Chili Pods, remove stem and seeds, diced

2

Chipotle Chilies in Adobo, diced

12

Oz

Freshly Brewed Coffee

2

Cups

Low Sodium Chicken or Beef Stock

(2) 14

Oz

Cans Black Beans, drained and rinsed
Garnish
1/2

Cup

Chopped Cilantro

1

Cup

Crumbled Queso Fresco or Cotija Cheese
Instructions
Preheat the oven to 350 degrees. Season short ribs with salt and pepper.

In a large dutch oven or oven-safe non-reactive stockpot bring the olive oil to high heat. When oil comes to temperature, add short ribs, searing on each side, until browned. This will take about 7-10 minutes.

Remove meat from the pan and reduce heat to medium-low. Add onions and cook until they begin to caramelize, about 15 minutes.

Meanwhile, in a blender combine the coffee, tomato paste, onion powder, garlic powder, cumin, smoked paprika, dried ancho chilies and chipotle chilies. Puree mixture until smooth.

Pour mixture into the pot with the onions, scraping the bottom of the pan to deglaze. Next add the chicken (or beef) stock and the black beans. Stir until combined.

Return the beef short ribs to the pot and ensure they are submerged by the liquid. Cover and cook in the oven for about 3 hours, or until ribs are fork-tender. Check periodically to make sure it's not getting too dry- if it is, add extra stock or water.

Before serving, shred the meat with 2 forks, and remove the bones and any large pieces of fat. Taste and add additional salt as necessary. Serve chili topped with cilantro and queso fresco or cotija cheese.
Short ribs have a beautiful marbling that leads to an incomparable flavor, ideal for enriching your chili. In this recipe, the meat is cooked until it falls from the bone. Added to black beans, this hearty chili has flavors of the southwest and the Caribbean. Made with both ancho and chipotle chilis, this warm spicy chili has a smoky sweet finish to it. Tip with cotija cheese and cilantro and you'll wonder why you never made chili with short ribs before.
Pair With:
● An Amber Lager like the Auburn Lager from Mad Anthony Brewing Company
Serve With:
● Cheddar Garlic Cornbread Biscuits
● Crispy Oven-Baked Potato Skins
Vegan Chocolate Chili
Ingredients
1

Tbsp

Vegetable Oil

1

Large

Onion, chopped

2

Jalapenos, seeded and chopped

2

Tbsp

Chili Powder

1

Tbsp

Ground Cumin

1

Tbsp

Ground Coriander

1

Pkg

Hodo Adobo Mexican Crumbles

2

Cloves

Garlic, minced

2

Tbsp

Unsweetened Cocoa Powder

2

Oz

Unsweetened Chocolate, roughly chopped

1

Large

Sweet Potato, peeled and cut into 1 inch cubes

(2) 15

Oz

Cans of Black Beans, drained and rinsed

28

Oz

Can of Diced Tomatoes with their juices

2

Cups

Vegetable Broth

1

Tsp

Kosher Salt

1/2

Tsp

Black Pepper

1/2

Cup

Fresh Cilantro, roughly chopped
Toppings
1

Tbsp

Vegetable Oil

1

Pkg

Hodo Adobo Mexican Crumbles

1/4

Cup

Pumpkin Seeds, optional

1

Ripe

Avocado, cut into cubes

1

Lime, cut into wedges

Maple Syrup, optional
Instructions
Heat oil in a Dutch oven over medium heat. Add onion, peppers, chili powder, ground cumin, and ground coriander. Cook, stirring occasionally, for 5-6 minutes or until onions are translucent.

Add in the Hodo's Mexican crumbles and saute for 3-4 minutes.

Place the remaining ingredients garlic, cocoa powder, chocolate, sweet potatoes, black beans, tomatoes, vegetable broth and salt and pepper. Give it a stir, put the lid on, bring to a boil, turn the heat down to medium-low and simmer for 20-25 minutes or until the sweet potatoes are fully cooked.

Cook the crumbles: If you are also using the crumbles as a topping, five minutes before you are ready to serve, prepare and sautee the Hodo Adobo Mexican Crumbles seperately. Heat oil in a large skillet over medium heat. Remove the crumbles from its packaging and saute, breaking it with a wooden spoon, for 3-4 minutes until it is fully crumbled and cooked.

Serve: Ladle the chili into bowls. Top each serving with Hodo's Adobo Mexican Crumbles, avocado cubes, pumpkin seeds, and chopped fresh cilantro. Right before serving, drizzle with a tablespoon of maple syrup and serve with wedges of lime.
Anyone going plant-based this January can rejoice. Made with healthy superfoods like dark chocolate, sweet potatoes, and black beans, this tasty chili is also packed with dense nutrition. Beyond all the healthy benefits, this spicy vegan chocolate chili brings a ton of flavor. The chocolate makes the sauce rich but also sweet and very hearty. Served with some fresh avocado and pumpkin seeds and you won't miss the meat.
Pair With:
● A Vegan Stout like Barney Flats Oatmeal Stout from Anderson Valley Brewing Company
Serve With:
● Vegan Creole Cornbread
● Vegan Beer-Battered Onion Rings
Green Chile With Pork and Roasted Chiles
Ingredients
12

Large

Mild Green Chiles

1

Large

Onion

2

Tbsp

Lard, or vegetable oil

1 1/2

Tsp

Fine Sea Salt

2 – 2 1/2

Lbs

Pork Butt, trimmed and cut into bite size pieces

2

Tbsp

All-Purpose Flour

1

Cup

Beer, Broth, or Water

2

Cups

Low Sodium Broth, or Water
Instructions
Position a rack in the center of the oven and heat to 400 F. When oven is hot, roast the green chiles until charred on all sides. Alternatively, use the oven's broiler to char the chiles, turning so all sides are blackened (or char on the open flame of a gas stove, using tongs to turn).

Cover chiles with foil and allow them to steam and cool down for at least 15 minutes. Pull off chile stems, scrape off and remove peels, remove seeds, and chop into small pieces. Set chiles aside. Peel and thinly slice onion.

In a heavy-bottomed pot or Dutch oven, heat the lard on medium. When the lard melts, add onions, chiles, and salt. Stir well and cook until onions are soft, about 3 minutes.

Transfer the vegetables to a bowl, leaving as much fat in pot as possible. Brown pork pieces, working in single layer batches. Repeat process until all pieces are browned. Remove from pot and set aside.

Add flour to remaining fat that's left in the pot and stir rapidly. Keep stirring until flour smells cooked, about 3 minutes. Add beer, stir, and scrape up any brown bits from bottom of pot. The mixture should thicken up fairly quickly.

Add broth and return pork and vegetables to the pot. Everything should be covered by liquid — add more broth or water if necessary.

Bring mixture to a boil, then reduce to a simmer, and cook, covered, until the pork is extremely tender, about 1 hour. If you like a thicker texture, uncover the pot and cook further. Taste for salt and add more if needed.
Not technically a chili so much as a chile stew, New Mexico Style Green Chile is one of the tastiest American dishes. So we had to include it on our list of the best chili bowls. Made with New Mexico's famous hatch chiles and roasted pork, this regional favorite will soon be a favorite dish for homegating. It's easy to make, delicious, and perfect for watching a bowl game.
Pair With:
● An Amber Brown Ale like Carlos American Brown Ale from Black Bottle Brewery
Serve With:
● Almost From Scratch Corn Tortillas
White Chili with Avocado Cream
Ingredients
1

Serrano Chile

1

Jalapeno Pepper

1

Medium

Onion, peeled and halved

Cooking Spray

4

Cups

Unsalted Chicken Stock, divided

2

Tbsp

All-Purpose Flour

1 1/2

Tsp

Adobo Sauce

1

Chipotle Chile, canned in adobo sauce

(2) 15

Oz

Cans Unsalted Cannellini Beans, rinsed, drained, divided

5 1/2

Tsp

Olive Oil

8

Garlic Cloves, minced

1

Tbsp

Ground Cumin

1

Tsp

Dried Oregano

3/4

Tsp

Ground Coriander

1

Lb

Ground Pork

2

Lbs

Skinless, Boneless Chicken Breast, cut into pieces

3

Cups

Fresh White Corn Kernals

15

Oz

Can Unsalted Chickpeas, rinsed and drained

1

Cup

Half and Half

3/4

Cup

Chopped Fresh Cilantro, divided

1/3

Cup

Plus 1 1/2 tsp Fresh Lime Juice, divided

2.38

Tsp

Kosher Salt, divided

1

Medium

Ripe Peeled Avocado

1/3

Cup

Light Sour Cream

3/4

Cup

Diced Tomatillo
Instructions
Arrange first 3 ingredients on a foil-lined baking sheet. Coat with cooking spray. Place pan on middle oven rack; broil 15 minutes or until charred on all sides, turning occasionally. Wrap peppers in foil; let stand 5 minutes. Peel peppers; discard peels, stems, and seeds. Combine peppers, onion, 1/2 cup stock, flour, adobo sauce, chipotle, and 1 can cannellini beans in a blender; process until smooth.

Heat a large Dutch oven over medium-high heat. Add oil to pan; swirl to coat. Add garlic to pan; sauté 30 seconds. Add cumin, oregano, and coriander to pan; sauté 30 seconds. Add pork; cook 4 minutes, stirring to crumble. Stir in onion mixture and remaining 3 1/2 cups stock. Bring to a boil; reduce heat, and simmer 20 minutes, stirring frequently.

Add chicken to pan; cook 5 minutes. Stir in remaining can of cannellini beans, corn, and chickpeas; cook 7 minutes. Reduce heat to medium-low. Stir in half-and-half, 1/2 cup cilantro, and 1/3 cup juice; cook 3 minutes. Stir in 2 1/4 teaspoons salt.

Place avocado in a small bowl; mash with the back of a fork. Stir in sour cream, remaining 1 1/2 teaspoons juice, and remaining 1/8 teaspoon salt. Serve chili with remaining 1/4 cup cilantro, avocado cream, and tomatillo.
For our final chili, we decided to go with something on the lighter side. White chili brings all the richness and flavor of red chili, but with lighter ingredients like white beans and chicken. If you don't have chicken, you can also use turkey or pork. Served with freshly made avocado cream, this white chili is the perfect finale for the New Year Six bowl games.
Pair With:
● An American Pale Ale Like Copperhead Pale Ale from Free State Brewing Co.
Serve With:
These six chili bowl recipes are perfect for homegating the New Year Six bowl games.
For more ideas for your New Year Six homegate, be sure to follow us on Facebook, Twitter, and Instagram. We have tons of ideas to make your homegating party a memorable time!