Last Updated on 01/05/2022 by Inside Tailgating
The 2021 PGA Tour Championship goes live from September 1st to the 5th. It looks to be an exciting round this year. John Rahm is favored to win, but some are predicting we may see a playoff between him and Xander Schauffele or newbie Sam Burns. Either way, it's going to be a fantastic match. If you're planning to homegate for the PGA tour, you'll definitely need some fuel to watch all four days. We've curated a roundup of our top nine favorite golf-themed snacks to help you create the perfect menu.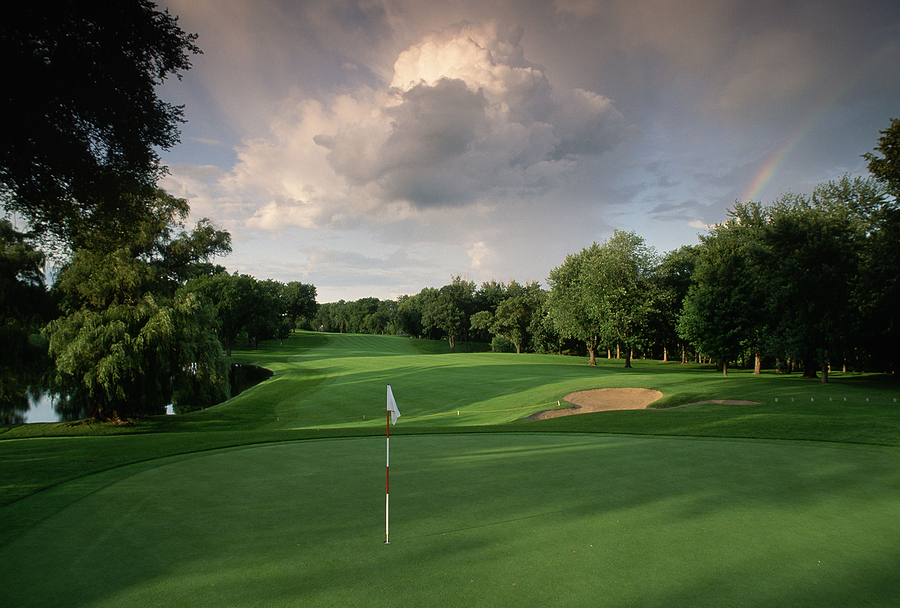 1. Pimento Cheese Snack Tray
Golf fans know the history of the pimento cheese sandwich. This iconic sandwich has been served at Augusta National Golf Course at the Masters Tournament for nearly 50 years. One of the most unique things about this sandwich is that it costs the same as when it was originally served, a whopping $1.50.
But it is time to shake up the classic pimento cheese sandwich, and how about serving it as a snack tray!
Southern Pimento Cheese Snack Tray
Ingredients
1

Batch

Smoked Pimento Cheese Spread

Baby Carrots

Sliced Peaches

Sliced Bell Pepper

Sliced Cucumber

Grape Tomatoes

Celery Sticks

Corn Chips

Sweet Bread and Butter Pickles

Butter Crackers

Toasted White Bread

Candied Pecans

Salted Peanuts

Corn and Black Bean Salsa

Bacon Jam
Instructions
Prepare desired ingredients and arrange on a platter. Serve immediately.

Yep, it's really that easy!
2. Pimento Cheese Deviled Eggs
If you're eating low carb, don't worry. You can still enjoy the golf classic pimento cheese. We found these delicious keto pimento cheese deviled eggs. They are essentially a standard deviled egg, but with a filling made with a blend of yolks and pimento cheese. We love this recipe because it's a healthy combination of the two most famous sandwiches in golf, pimento cheese and egg salad. Try them for yourself.
Pimento Cheese Deviled Eggs
Ingredients
6

Hard Boiled Eggs, peeled

3.5

Tbsp

Cooked Egg Yolk

3.5

Tbsp

Mayonnaise

1.25

Tsp

Yellow Mustard

4

Tbsp

Prepared Pimento Cheese

Pimentos, for garnish
Instructions
Slice the eggs in half. Remove the yolks to a separate bowl. Use a fork to mash the yolks until they are very fine crumbs. Reserve 3.5 tablespoons of the yolk.

Add the yolks, mayonnaise, and mustard to the bowl of a food processor or blender. Pulse until very smooth and free of lumps.

Add the processed filling to a small bowl. Fold in the pimento cheese.

Fill each egg half with mixture. You should not have any filling remaining.
3. Burger Dog
Do you love hamburgers? Do you love hotdogs? Do you have a hard time deciding which you like better? Well, now you don't have to pick. The burger dog, served at The Olympic Club in San Francisco combines these two favorites into one amazing meal. First served on a hot dog stand outside the club, burger dogs became so popular with golfers, they invited the chef to serve his burger dogs inside the clubhouse. Made with ground chuck and topped with cheese, red relish, mustard, dill pickles, and onions, this delicious dog is easy to make for your homegate party.
All-American Burger Dog
Ingredients
1

Lb

Ground Beef (80% lean)

2

Slices

Cheddar Cheese

2

Extra-Long Hot Dog Buns

4

Tsp

Mayonnaise

2

Tbsp

Ketchup

Salt and Pepper, to taste
Instructions
Place half the ground beef on a sheet of plastic wrap. Pat it into a rectangular shape, about 1/2 inch thick, 8 1/2 inches long, and 4 inches wide. Season with salt and pepper. Roll the beef into a log, using the plastic wrap as a guide. Season with more salt and pepper. Wrap the plastic tightly around the log and twist both ends tight. Pat gently to slightly flatten. Repeat with remaining ground beef.

Preheat an outdoor grill for medium-high heat and lightly oil the grate. Remove the burger dogs from the plastic wrap and place on the grill, perpendicular to the grates. Cook until burgers are browned but still pink inside, 4 to 5 minutes, flip, and cook another 2 to 3 minutes. Place a slice of cheese on each burger dog and grill to medium doneness (an instant-read thermometer inserted into the center should read at least 140 degrees F/60 degrees C). Remove and rest 3 to 4 minutes.

Toast hot dog buns on the grill and spread each with 2 teaspoons mayonnaise. Place burger dog on each bun and squirt 1 tablespoon of ketchup on top.
4. Peanut Butter, Bacon, And Jelly Sandwich
It's hard to improve on perfect things. We were skeptical about adding anything to a classic PB&J. However, the peanut butter, bacon, and jelly sandwich is a hit at Fisher's Island Course clubhouse. It also kind of reminded us of Elvis' favorite sandwich. The crunchy, salty bacon is perfectly balanced against the creamy, rich peanut butter and sweet jelly. Plus, it's made like a grilled cheese, so it's also extra gooey and warm. We definitely recommend having a couple of extra napkins on hand because this peanut butter (or should we say peanut "putter"), jelly, and bacon sandwich can get a little messy.
Peanut Butter and Jelly with Bacon
Ingredients
4

Slices

Bread

6

Slices

Pepper Jack Cheese

2

Tbsp

Raspberry Jam

2

Tbsp

Creamy Peanut Butter

6

Slices

Fried Bacon

2

Tbsp

Butter
Instructions
Butter one side of the bread and flip it over. Spread the peanut butter over the bread. Add the bacon and cheese. Butter the other side and flip it over once again. Spread the jam on and put it on top of the other slice of bread. Drizzle some olive oil into a pan, place the peanut butter and jelly sandwich in. Fry it, over medium high heat, for about 1 1/2 minutes on each side.

Plate, slice, and enjoy your peanut butter and Jelly with bacon sandwich.
5. Brisket Tacos
If you're a meat lover, you have to try Brisket Tacos. Served at Escondido Golf & Lake Club in Horseshoe Bay, these tacos showcase the regional flavors. They smoke the brisket over pecan wood and white oak for 24 hours, then serve on a handmade corn tortilla. Then they add a variety of toppings from BBQ sauce to jalapenos to cilantro. Now, unless you have a smoke pit available for your homegates, we found a great recipe for the home chef that will bring the smoky, spicy flavors of this TexMex masterpiece to your kitchen.
Beef Brisket Tacos
Ingredients
1

Bottle

Beer or Nonalcoholic Beer

1

Cup

Brisket Marinade Sauce or Liquid Smoke plus 1 Tbsp salt

2

Bay Leaves

1/2

Tsp

Salt

1/2

Tsp

Pepper

1

Fresh Beef Brisket (3-4 pounds), fat trimmed

20

Corn Tortillas (6 inches), warmed

Shredded cheddar cheese, lime wedges, media crema table cream, fresh cilantro leaves, thinly sliced green onions, jalapeno slices and salsa

Optional
Instructions
In a large resealable plastic bag, combine the first five ingredients. Add brisket; seal bag and turn to coat. Refrigerate overnight.

Transfer brisket and marinade to a 6-qt. slow cooker. Cook, covered, on low until tender, 8-10 hours. Remove meat; discard bay leaves. Reserve juices in slow cooker. When cool enough to handle, shred meat with two forks. Return to slow cooker.

Using tongs, serve shredded brisket in tortillas. Add toppings as desired.
6. Chicken And Goat Cheese Wrap
Wraps are a great golf course option. They are healthy to fuel your shot and portable to carry around the green. We love the Chicken and Goat Cheese Wrap from Dinner Then Dessert. This delicious combination of chicken, goat cheese, and balsamic vinegar is super tasty. It also contains a generous amount of dried cranberries. Just make sure to serve it in a wrap like the classic.
Balsamic Chicken Goat Cheese Wraps
Ingredients
For The Chicken
3

Chicken Breasts, boneless and skinned

1/4

Cup

Balsamic Vinegar

2

Tbsp

Honey

1

Tbsp

Whole Grain Mustard

3

Cloves

Garlic, minced

1/4

Tsp

Kosher Salt

1/4

Tsp

Black Pepper

1

Tbsp

Canola Oil
For The Wraps
1

Cup

Arugula

1/2

Cup

Dried Cranberries

1/2

Cup

Goat Cheese, crumbled

1/2

Cup

Chopped Pecans

1/4

Cup

Balsamic Glaze

4

Large

Tortillas
Instructions
To each tortilla add ¼ of the arugula, chicken, cranberries, goat cheese, pecans and balsamic glaze.

Tuck in the sides of the tortilla and roll like a burrito.

Serve at room temperature or cold.
7. PGA Fruit PAR-fait
For lighter fare, a fruit salad or parfait is a great option. It's cool and refreshing and is perfect for the end of summer. Though there isn't really a famous golf fruit salad, we decided to find a PGA salad. In this case, PGA stands for pineapple, grapes, and apples. We love this adaptable recipe that uses a variety of fruit including PGA.
Fresh Fruit Parfait
Ingredients
1

Pomegranate, Juice

1

Sm Cup

Yogurt

1 1/2

Tsp

Sugar

1/4

Cup

Mint Leaves

1

Apples, chopped

1

Cup

Black Grapes, halved

15

Ml

Vodka (optional)

7-8

Strawberries, chopped

1

Cup

Kiwi, chopped

1

Cup

Pineapple, chopped

2

Scoop

Vanilla Ice Cream

Pistachios, for garnish
Instructions
Add the juice, yogurt, sugar and mint in a blender.

Once done, take it out in a bowl and whisk it to give it some body. Make it nice and fluffy.

Now add the vodka into it and it's done. Let it chill while you prepare the fruits.

Now first add the apples to the glass. Then the kiwi. Then the pineapples, strawberries and finally the grapes.

Pour the chilled coulis over the fruits and top it with some vanilla ice cream.

Garnish with some pistachios.

***Please note that the vodka is optional.
If parfaits aren't really your thing, try this PGA fruit salad from Taste of Home.
Apple Pineapple Salad
Ingredients
1

Can

(20 ounces) Unsweetened Pineapple Chunks

1/4

Cup

Reduced-Fat Margarine

2

Tbsp

Lemon Juice

1

Tbsp

Cornstarch

2

Tbsp

Water

2

Tbsp

Sugar or Artificial Sweetener

3

Cups

Chopped Apples

2

Cups

Green Grapes

2

Tsp

Poppy Seeds

3/4

Cup

Chopped Pecans, toasted
Instructions
Drain pineapple juice into a saucepan. Add margarine and lemon juice; cook over medium heat until margarine is melted. In a small bowl, combine cornstarch and water until smooth; stir into juice mixture. Bring to a boil; boil and stir for 2 minutes. Reduce heat; add sweetener. Cool to room temperature, about 30 minutes. In a large bowl, combine pineapple, apples, grapes and poppy seeds. Add the dressing; toss to coat Cover and chill for at least 1 hour. Just before serving, gently toss in pecans.
8. Cheesy Grit Fritters With Hot Pepper Jelly
Grits are a popular favorite of the clubhouses of the gorgeous courses on Kiawah Island, South Carolina. This Southern classic is perfect for whipping up before the biggest PGA tournament of the year. We decided to take grits one step further and make these grit fritters. Fried just like corn fritters, these delicious savory grits are mixed with sharp cheddar cheese, dipped in panko crumbs, and served with a sweet and spicy pepper jelly.
Cheesy Grit Fritters with Hot Pepper Jelly
Ingredients
Pepper Jelly
2

Large

Red Bell Peppers

1

Poblano Pepper, stems and seeds removed

2

Jalapeno Peppers, stems and seeds removed

1

Habanero Pepper, stem and seeds removed

1

Cup

Sugar

1

Cup

Apple Cider Vinegar

1

Tbsp

Kosher salt
Grits
3

Cups

Water

1

Cup

Heavy Cream

1

Cup

Stone-Ground Grits

4

Tbsp

Unsalted Butter

1/2

Cup

Grated Parmesan Cheese

Salt and pepper, to taste
Fritters
1 1/2

Cups

Shredded Sharp Cheddar Cheese

4

Eggs, beaten

1/2

cup

Water

3

Cups

Panko Bead Crumbs

Kosher Salt

Vegetable Oil, for frying
Instructions
To Make The Pepper Jelly
In a food processor, combine all peppers and pulse until finely minced. Strain away any liquid and transfer minced peppers to a medium saucepan.

Add sugar, vinegar and salt and simmer on medium heat until syrupy enough to coat the back of a spoon, about 20 to 30 minutes. Remove from the heat and cool.
To Make The Grits
Line a baking sheet with parchment paper and spray with nonstick pan spray.

In a medium saucepan, bring water and cream to a boil over medium-high heat, and season with salt and black pepper.

Whisk in grits, bring to a boil, then reduce heat to a simmer. Continue to simmer, whisking frequently, until the mixture is creamy and the grits have cooked through, 30 to 40 minutes.

Add butter and cheese and stir until butter is melted. Transfer grits to the prepared baking sheet and refrigerate until cooled, at least 4 hours.
To Make The Fritters
In a large Dutch oven or other heavy-bottomed pot, heat 2 inches of oil to 350 degrees over medium-high heat. Alternatively, heat the oil to 350 degrees in a deep fryer following the manufacturer's directions.

Line a large plate with paper towels. While the oil is heating, form cooled grits into golf ball-shaped balls, flatten the dough, then stuff the center of each ball with shredded cheese.

In a small baking dish, whisk together eggs and water. In a separate baking dish, season bread crumbs with salt and pepper. Roll each ball in egg wash, then completely coat each ball with the seasoned bread crumbs.

Fry in batches until golden brown and cheese has melted in the center, about 5 minutes, and drain on prepared plate.

Serve hot with pepper jelly.
9. Peach Ice Cream Sandwiches
Another famous golf dessert from Augusta National is the delicious peach ice cream sandwiches. This sweet dessert is made with regional favorites and is a great way to cool down after a summer round. These are perfect for your golf homegate. You can make them from scratch, or you can simply buy some sugar cookies and peach ice cream and get to assembling.
Georgia Peach Ice Cream Sandwich
Ingredients
3-1/2

Cups

Sugar

2

Cups

Half and Half Cream

3/4

Tsp

Salt

6

Eggs, lightly beaten

4

Cups

Heavy Whipping Cream

2

Tsp

Vanilla Extract

6-8

Medium

Peaches, peeled and sliced
Instructions
In a large saucepan, heat half-and-half to 175°; stir in the sugar and salt until dissolved.

Whisk a small amount of hot cream mixture into the eggs.

Return mixture to the pan, whisking constantly.

Cook and stir over low heat until the mixture reaches at least 160° and coats the back of a metal spoon.

Remove from the heat. Cool quickly by placing pan in a bowl of ice water; stir for 2 minutes.

Stir in whipping cream and vanilla.

Press plastic wrap onto surface of custard. Refrigerate for several hours or overnight.

Place peaches in a blender, cover, and process until pureed.

Fill cylinder of ice cream freezer two-thirds full; freeze according to manufacturer's directions.

Refrigerate remaining mixture until ready to freeze, stirring before freezing each batch.

Allow to firm up in the refrigerator freezer for 2-4 hours before serving.
These nine snacks should set you up for your PGA Tournament homegate PAR-tee (last one). Many of these recipes are steeped in the history of the game and offer a delicious experience for golf fans who can't make it to the clubhouse.
For more ideas for homegating the PGA Tour Championship, we've got you covered. We have tons of great ideas for all your tailgating needs, like these PGA Tour cocktail recipes or these Masters classic recipes right on our website.
Let us know which snack is your favorite by leaving your answer in the comments or by tagging us on social media. Be sure to follow us on Facebook, Twitter, and Instagram for more tailgating tips.